We woke up very early this morning, 3 AM and had trouble getting back to sleep. The time change is certainly messing with our sleep. 
When we finally got up and out of the room we decided to grab a quick bite on Rue Clere which is a cute little street just around the corner from our hotel.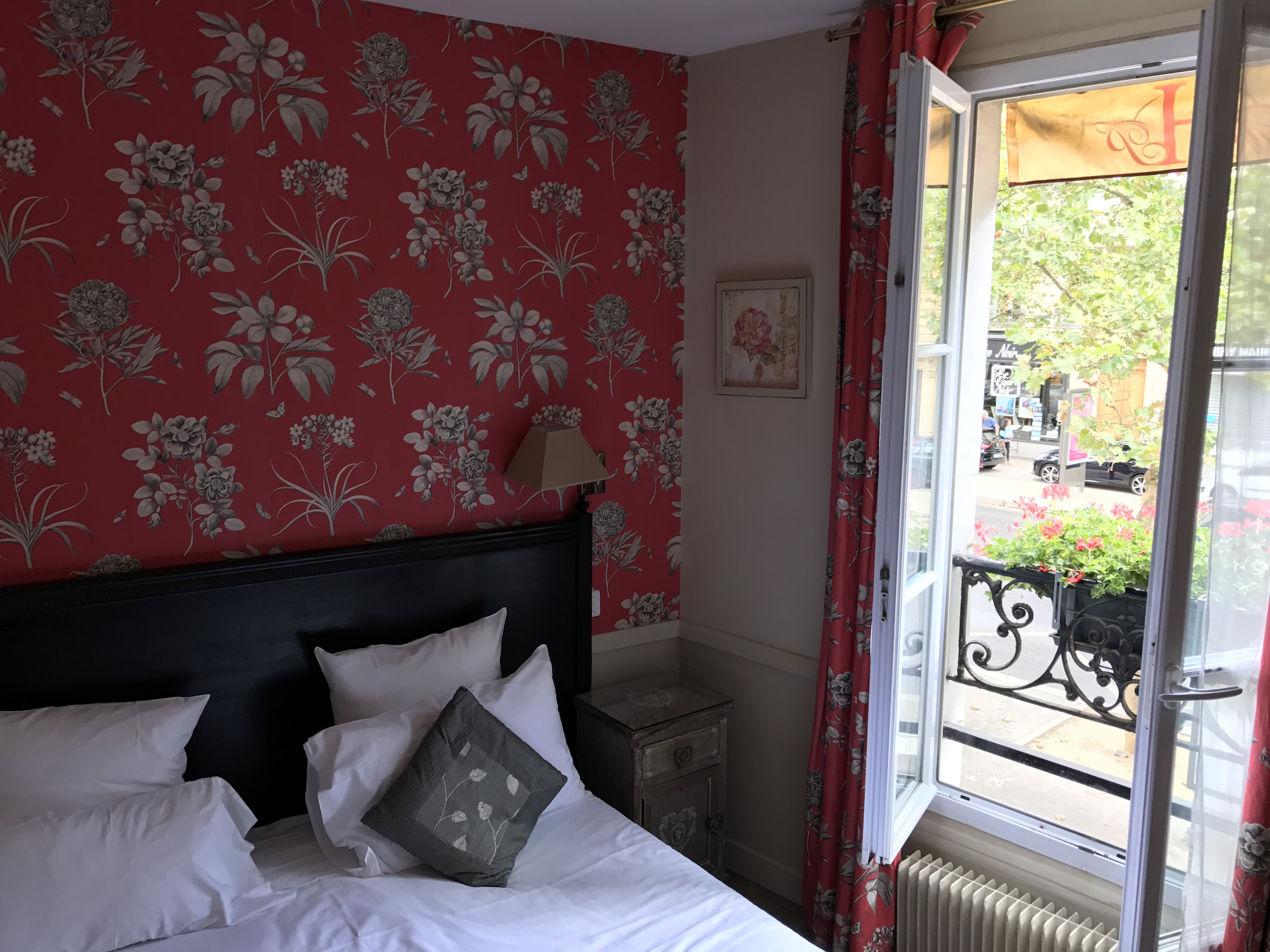 Breakfast consisted of a cup of coffee with milk, orange juice and a croissant. 
After that we headed to the Arc de Triomphe.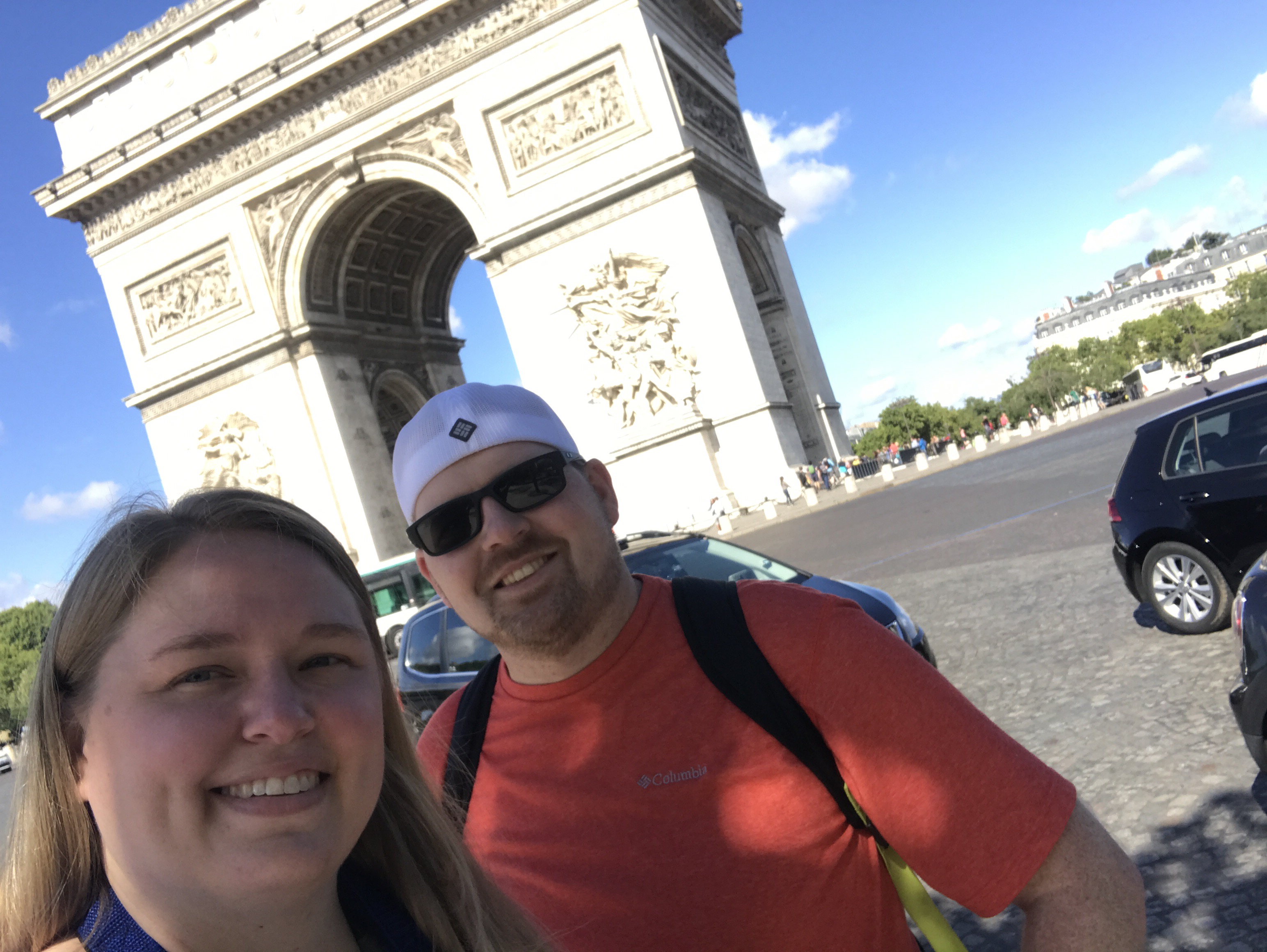 We have a Paris pass so we were able skip the line and walk straight up to the top. 
The view from above was incredible. We could see the whole beautiful city. 

There were many stairs to the top, our out of shape legs were feeling the burn. 
After about an hour in the Arc de Triomphe we headed back down to walk the infamous Champs-Élysées. There was a terror attack recently here and we could tell by the numerous amount of police with high powered rifles they weren't going to let that happen again. The street was closed and thousands of people flooded the motorway taking photos of the Arc and shopping in a worry free zone.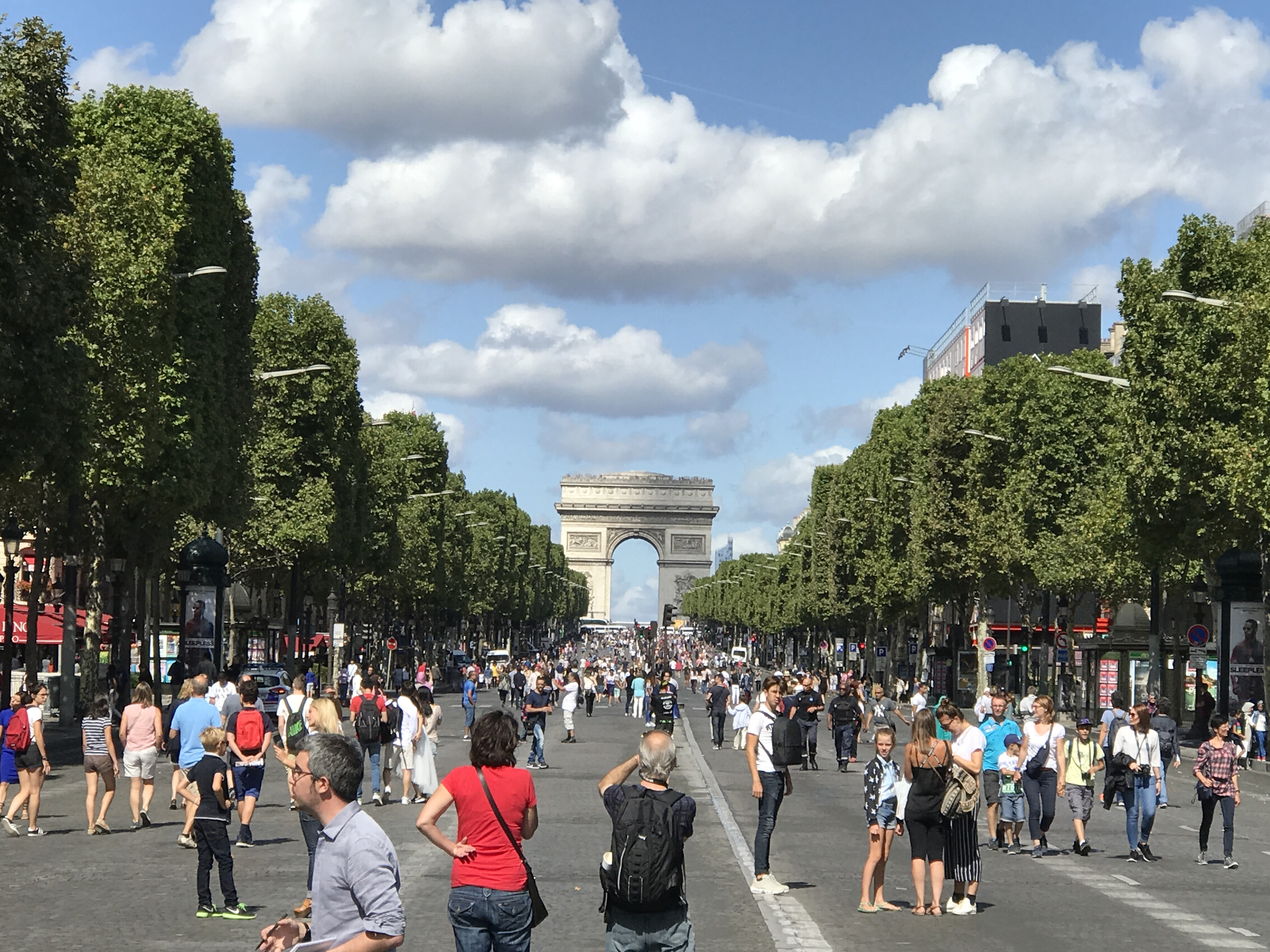 The sun was hot today. The clouds rolled in and out giving some relief from the heat but not enough to spare me a red face and arms. 
Around noon we headed towards the Orangerie Museum and saw many paintings. 

One of my favorite parts of today was the walk through Tuileries Garden where we had our first gelato of the trip. I'm certain that gelato really does taste better in Europe. We found a small stand selling the tasty treat and enjoyed eating and resting our feet for a bit.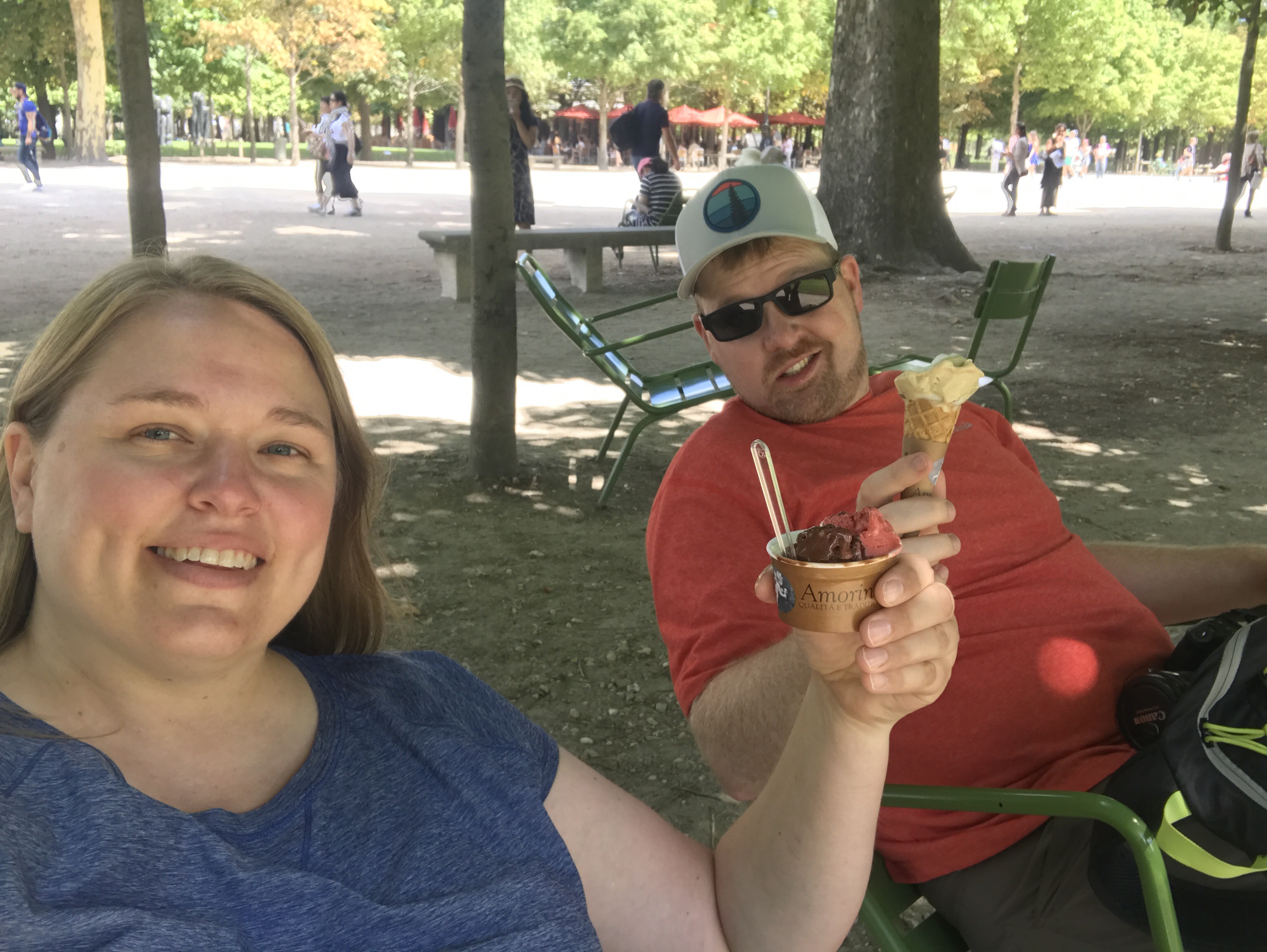 Next stop was the d'Orsay Museum where we saw more paintings and statues. 
By this time our feet were really hurting and the only cure for sore feet is… you guessed it, beer!

Lastly but not least was a sunset picnic in front of the Eiffel Tower. We tried out some night photography and saw the sparkly light show that occurs every hour on the hour. One thing is for sure, she is a thing of beauty.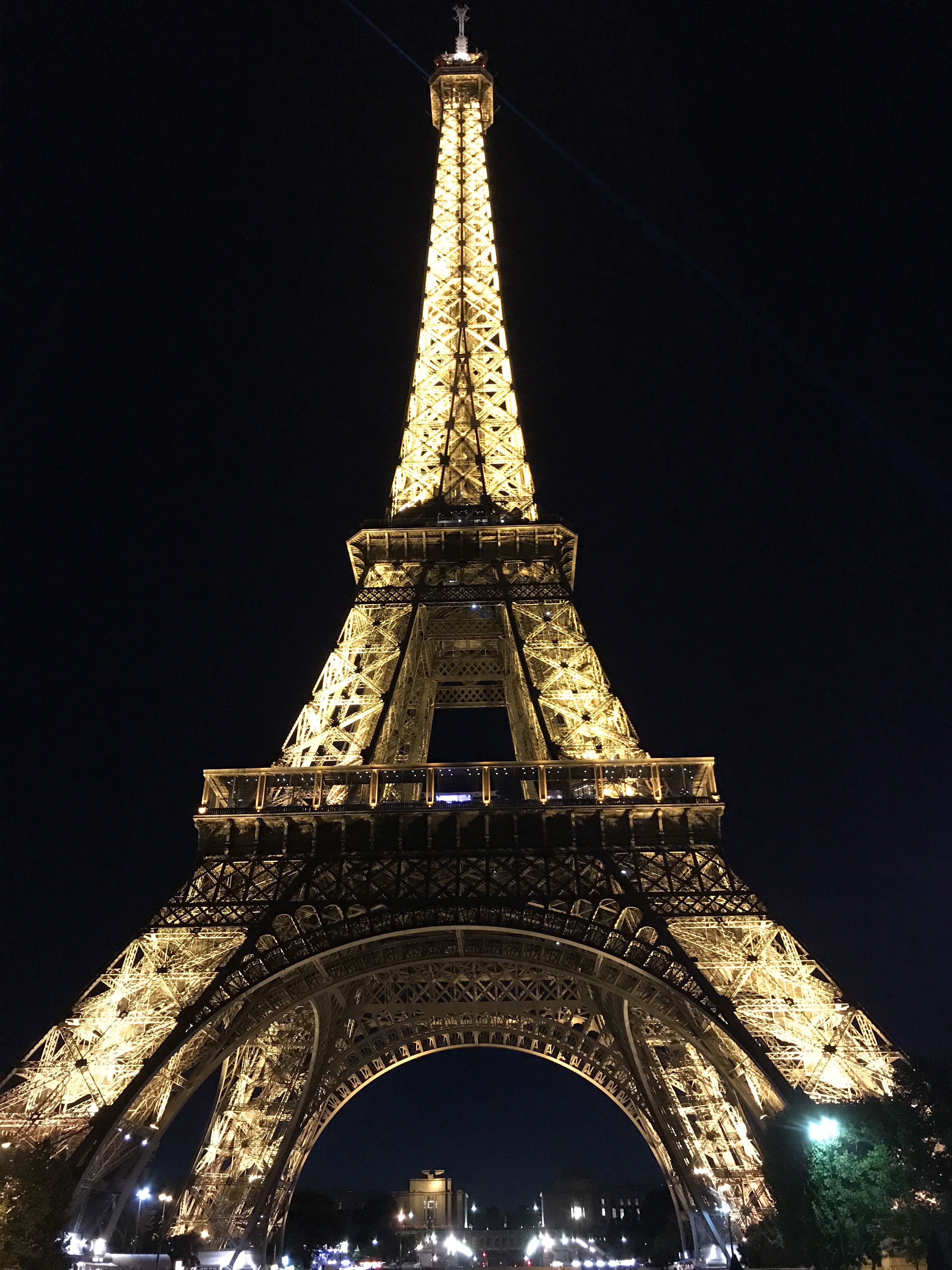 Now off to bed, wake up time is 7:00 AM so we can get to the Louvre early and to see Notre Dame.
Distance Walked: 14.17 miles