First stop – Honolulu and Waikiki Beach.
Swimming at Waikiki was an exciting experience. The water was so clear. We played in the waves for what seemed like hours as we watched the sun go down. Of course it's hard not to think about what could be swimming beneath your feet anytime you step into open water. It was worth the risk to swim in such warm, clear water.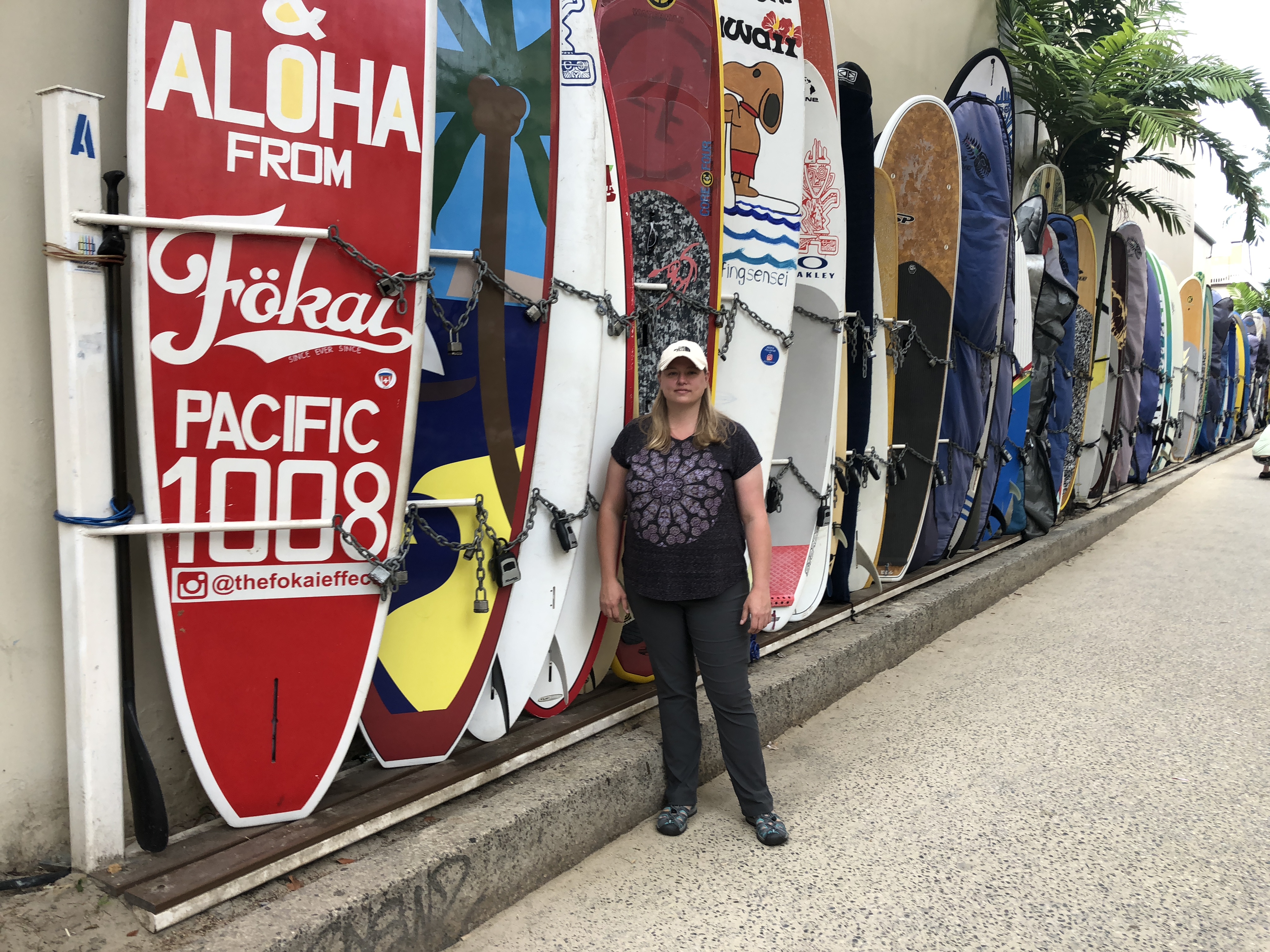 ( Photo above: Waikiki Beach )
Our second full day on Oahu was spent at Pearl Harbor. The heat was intense but the feeling of being in such a historical place was incredible. The massive ships docked at the harbor make you feel very small. The museum plays videos from that fateful day December 7, 1941 where you really get a sense of the intensity of the bombings and loss of life.
(Photo above: Pearl Harbor Ships)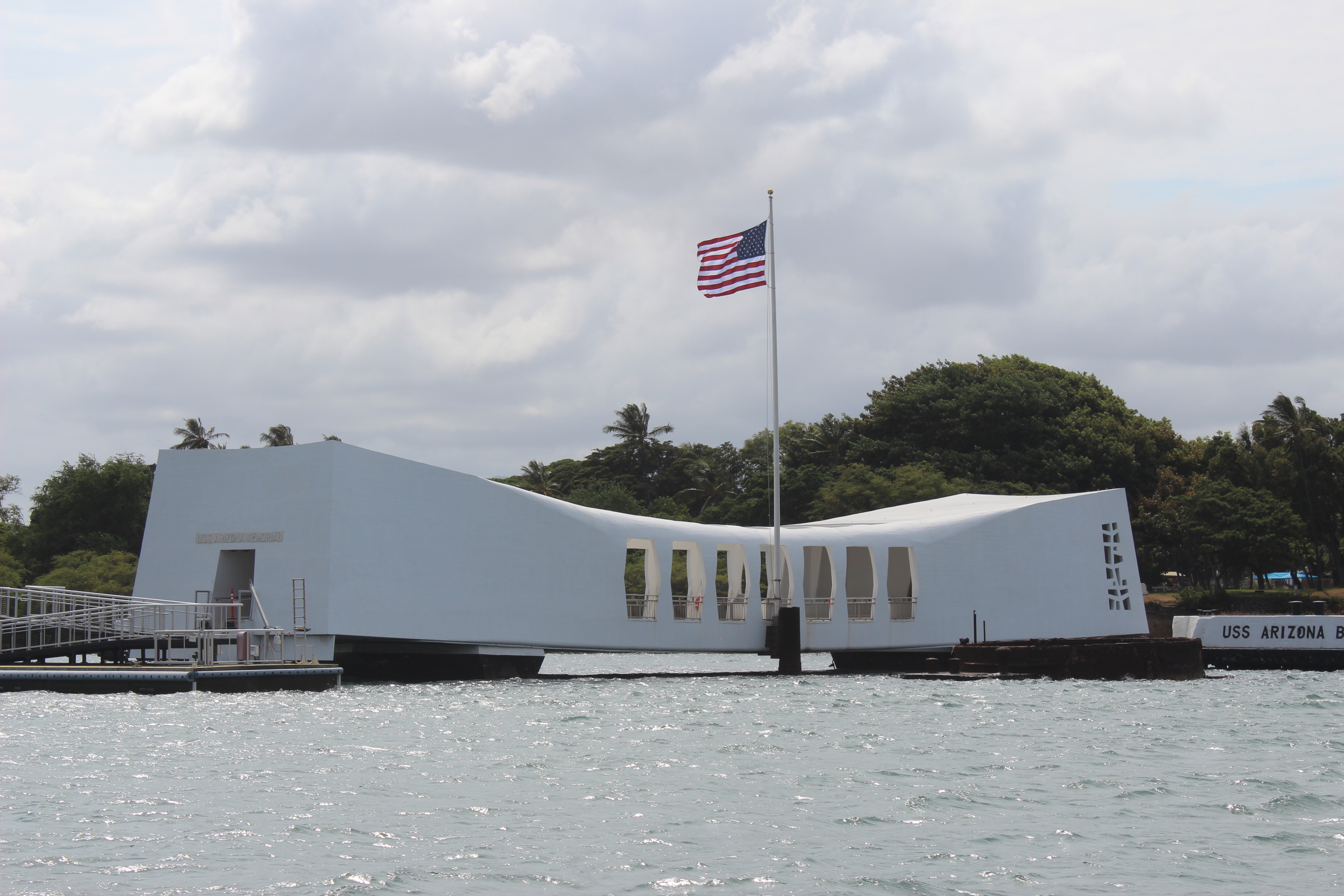 (Photo above: Pearl Harbor, USS Arizona Memorial)
Our next stop was Maui. We rented a house with a pool in Kihei.
This house was about 5 minutes from The Kama'ole beaches. We spent the mornings boogie boarding and wave hopping.
One day we took a trip to the Nakalele Blowhole. This is a quick trek down a sharp rocky path toward the edge of the island. The blowhole is interesting, it takes a great big wave to set it off. Be sure to stay back as tourists have been sucked into it on occasion.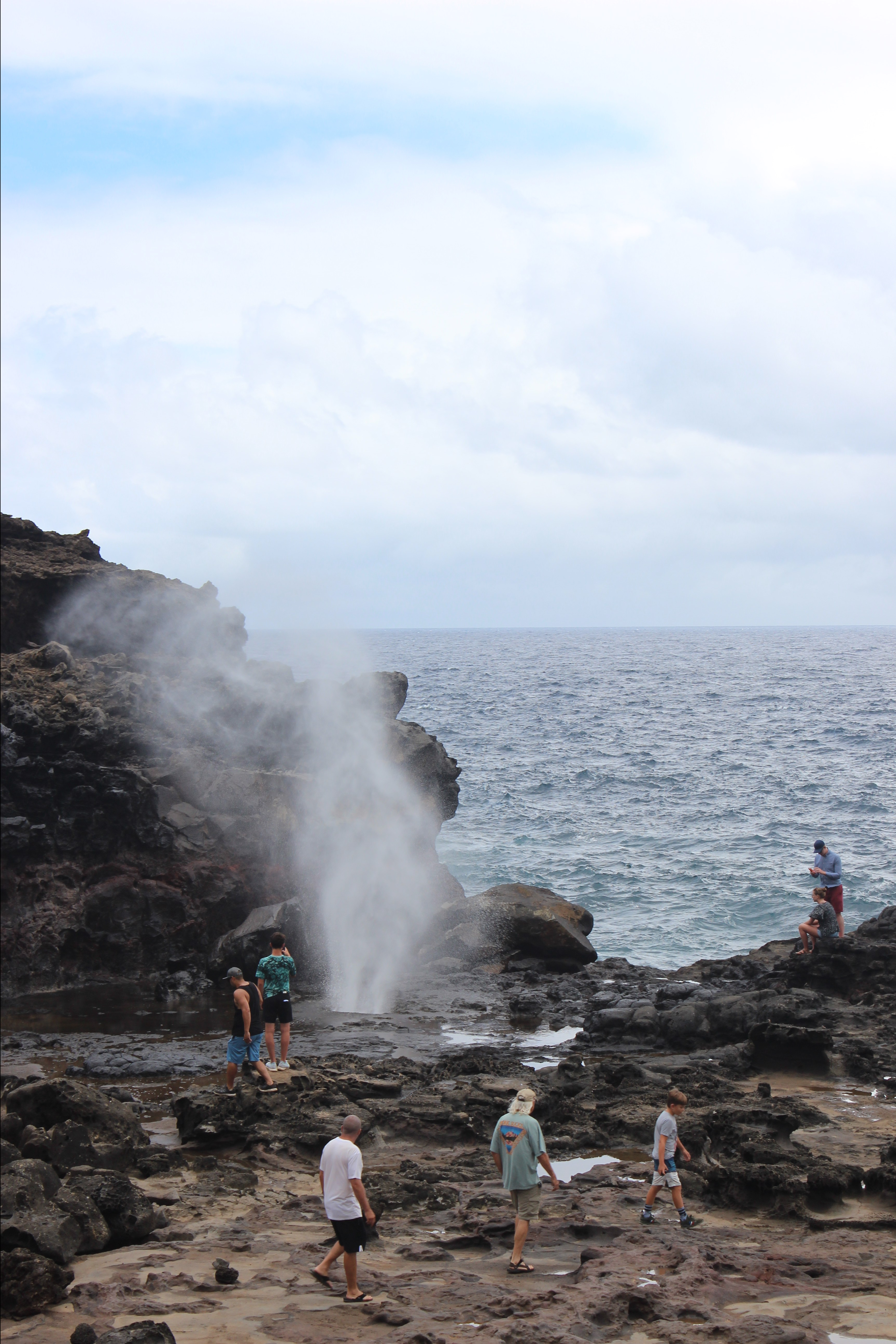 (Photo above: Nakalele Blowhole)
On the side of the road by the blowhole you'll find locals selling fresh coconuts for drinking. Not a bad way to make a living if you ask me. Where do I sign up?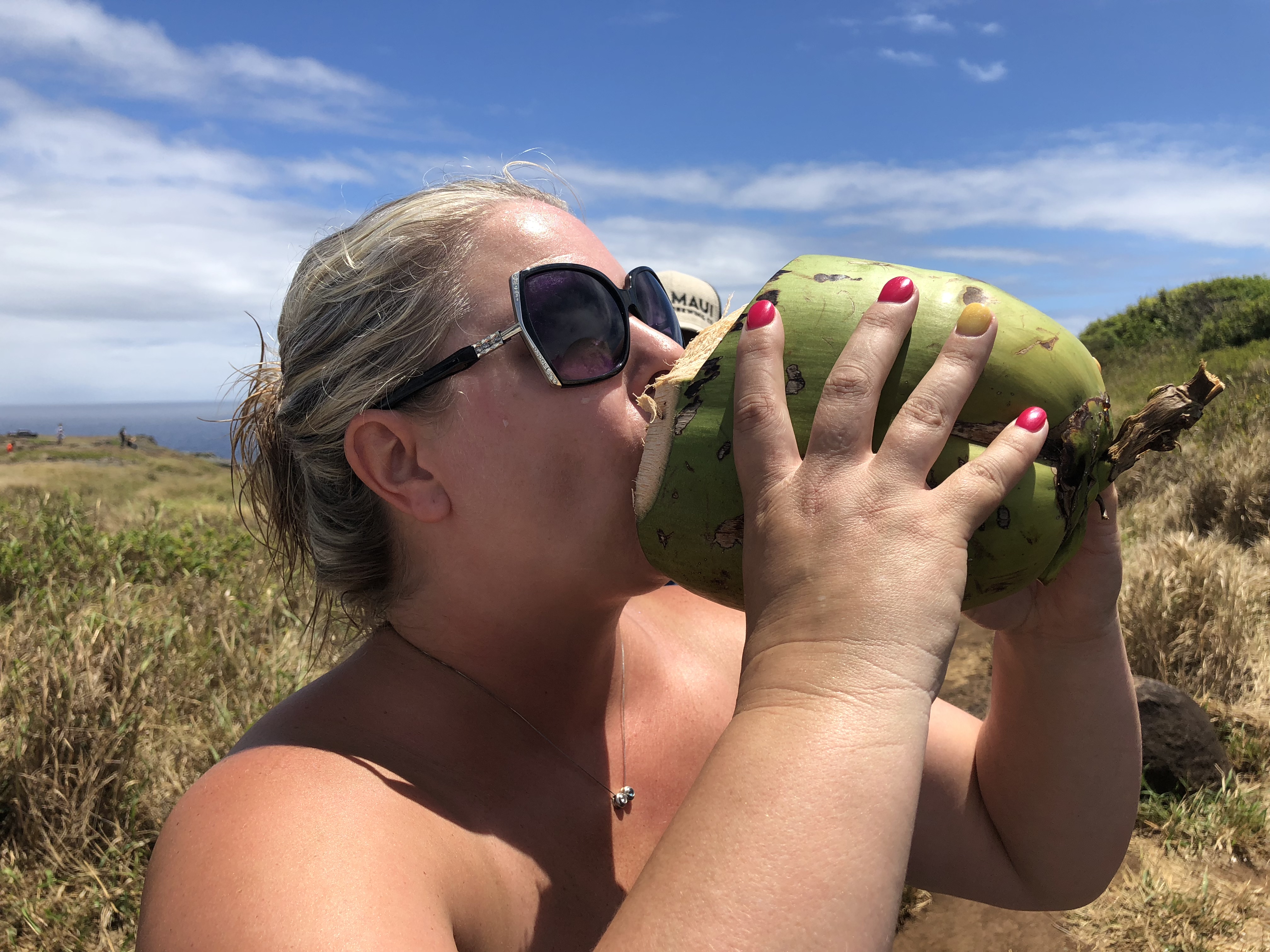 (Photo above: drinking from a coconut)
Of course you can't go to Hawaii without having Shave Ice so we managed to have it almost everyday.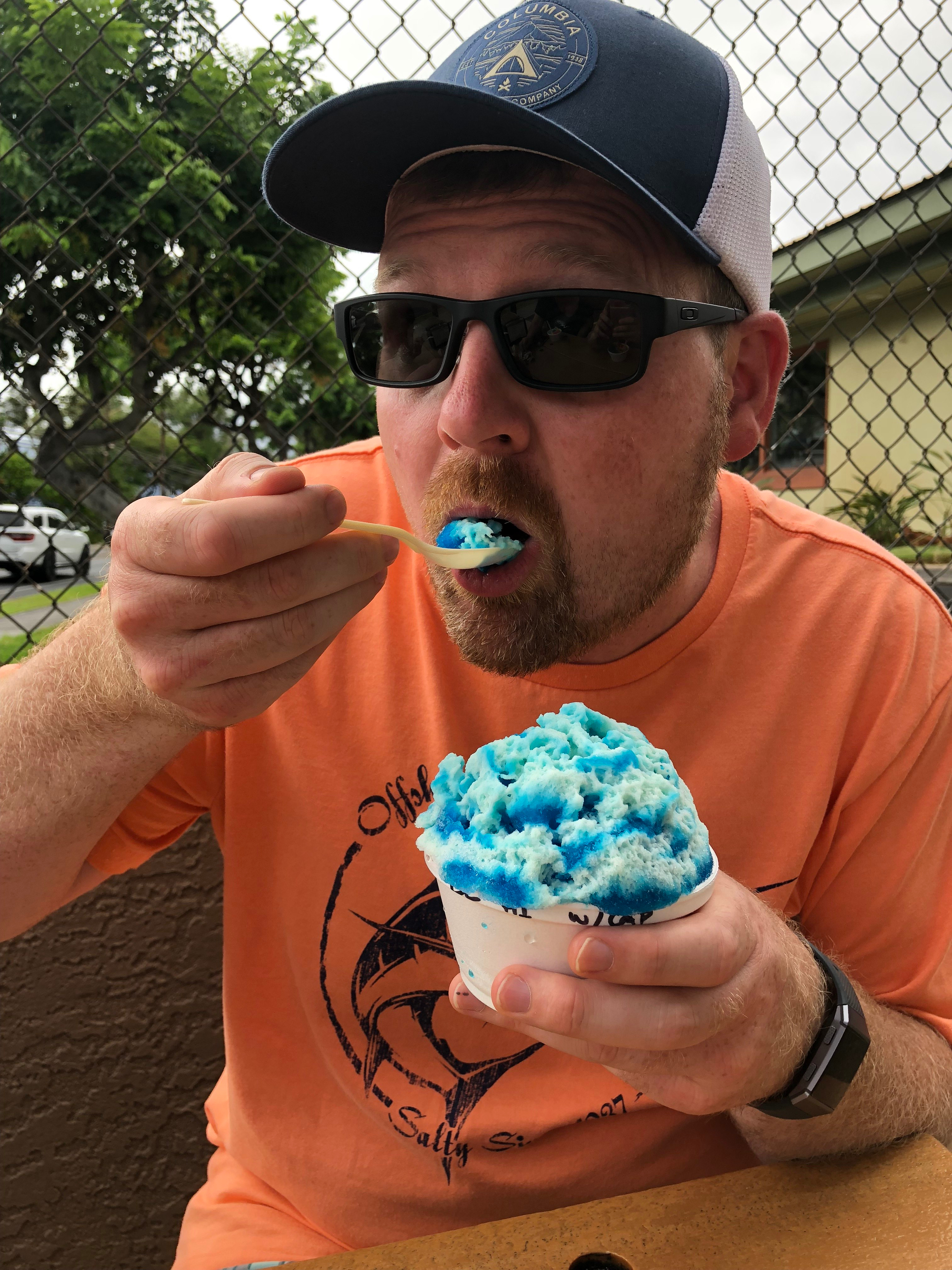 (Photo above: First Shave Ice of the trip)
Another fun outing we did was the plantation tour. We hopped on a tram and toured the plantation for about 45 minutes we learned how to open a coconut with only a rock and then we were treated to some fresh fruits.
My favorite town in Maui is Lahaina. Lahaina is just the right size for an afternoon stroll with some shopping and eating mixed in.
Lahaina is where we rescued 2 small dogs from being locked inside a hot truck on a 90 degree day. The police were called, the dogs were let out of the truck and of course the dogs owner saw nothing wrong with such abuse. I think about these two dogs often and hope they are safe and well.
The Maui Banyan Tree is a must see.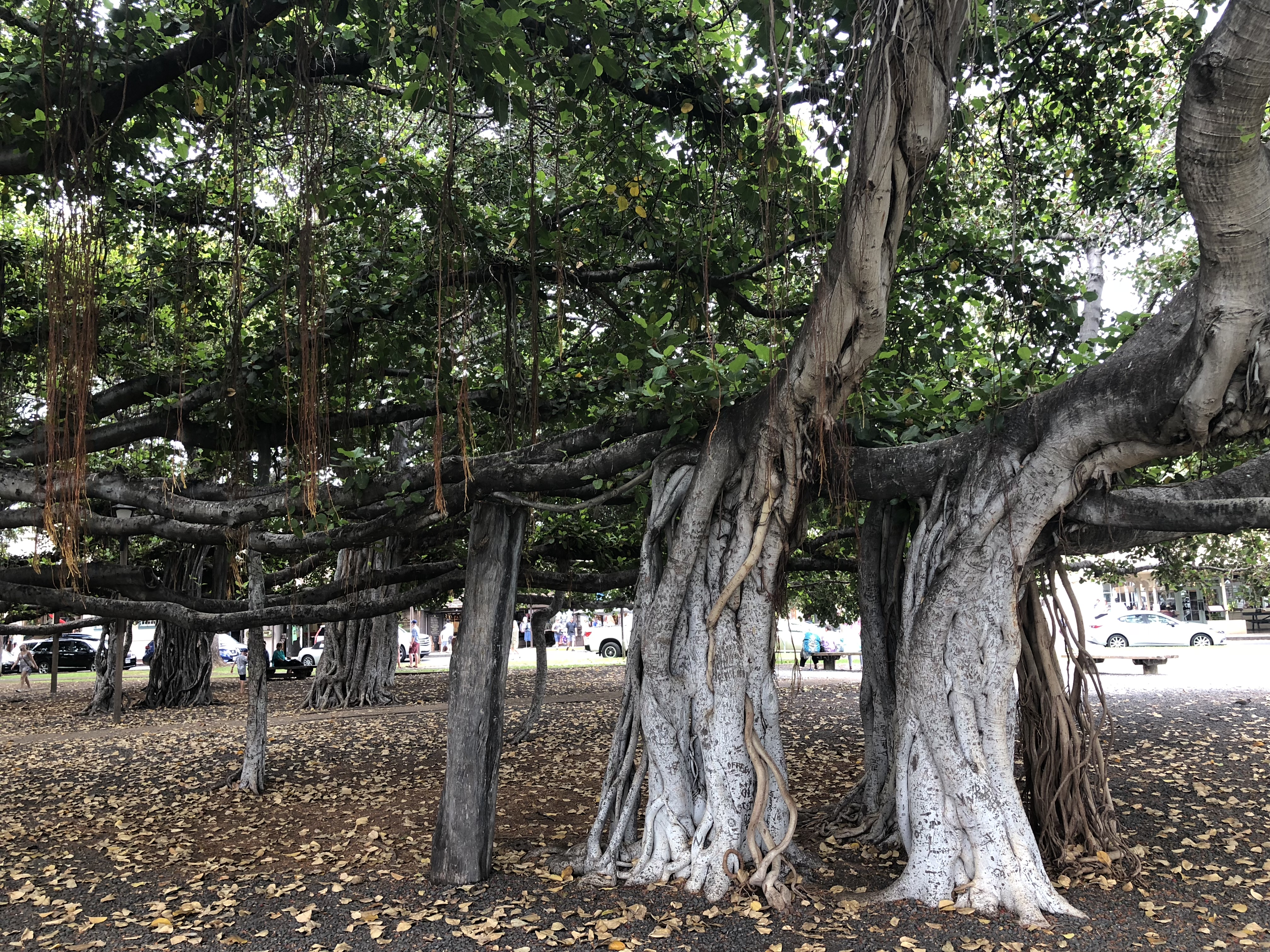 (Photo above: Maui Banyan Tree)
This tree was planted in 1873 and covers 1.94 acres. This is the oldest Banyan tree in the United States. It creates shade for the town and a great place to sit and people watch while you have a bite to eat.
The road to Hana is a must do while in Maui.
The Seven Sacred Pools is your destination along with many waterfalls and an amazing view of the ocean. The drive is very windy and treacherous in parts but the end result is a fantastic waterfall. I would recommend you leave at 6 AM to avoid the island traffic. This drive is much more tricky when there are too many cars on the road. This is my second trip to the pools, my first being back in 2008 when we were actually allowed to swim in them. It was much too dangerous to do so this trip so the pools were closed for swimming.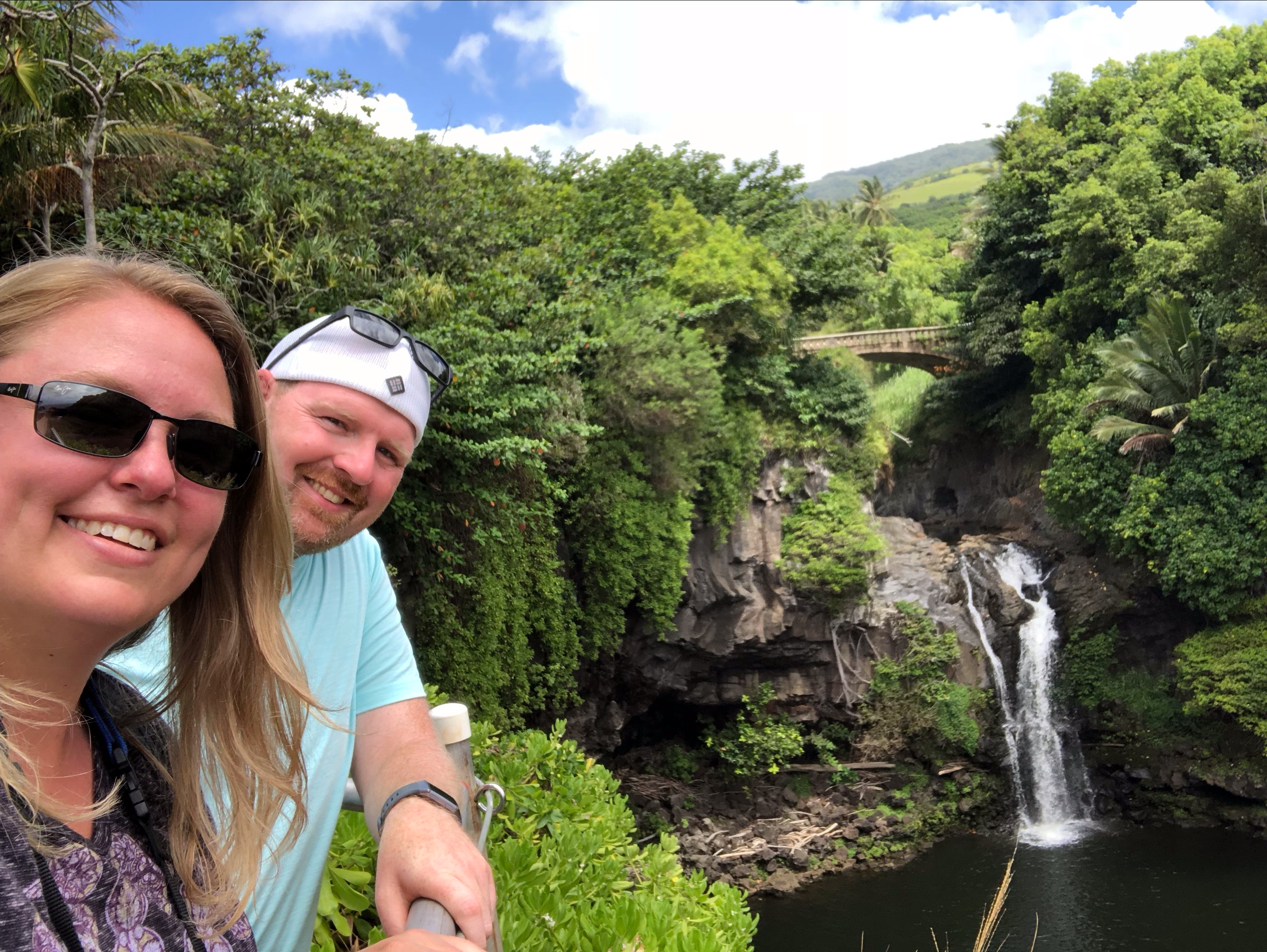 (Photo above: Seven Sacred Pools)
If you have time to stop by Charles Lindbergh's gravesite, it's just down the road from the Pools. It's worth a quick stop to see this beautiful church and cemetery. Charles Lindbergh was the first person to fly a solo non-stop transatlantic flight between two major cities. He was 25 years old. The Lindbergh family is also well known because of the kidnapping and murder of their young son Charles Jr. in 1932. It was known as the crime of the century and led the US Congress to establish kidnapping as a federal crime. Lindbergh loved Maui so much that he wanted to be buried here at Palapala Ho'Omau Congregational Church.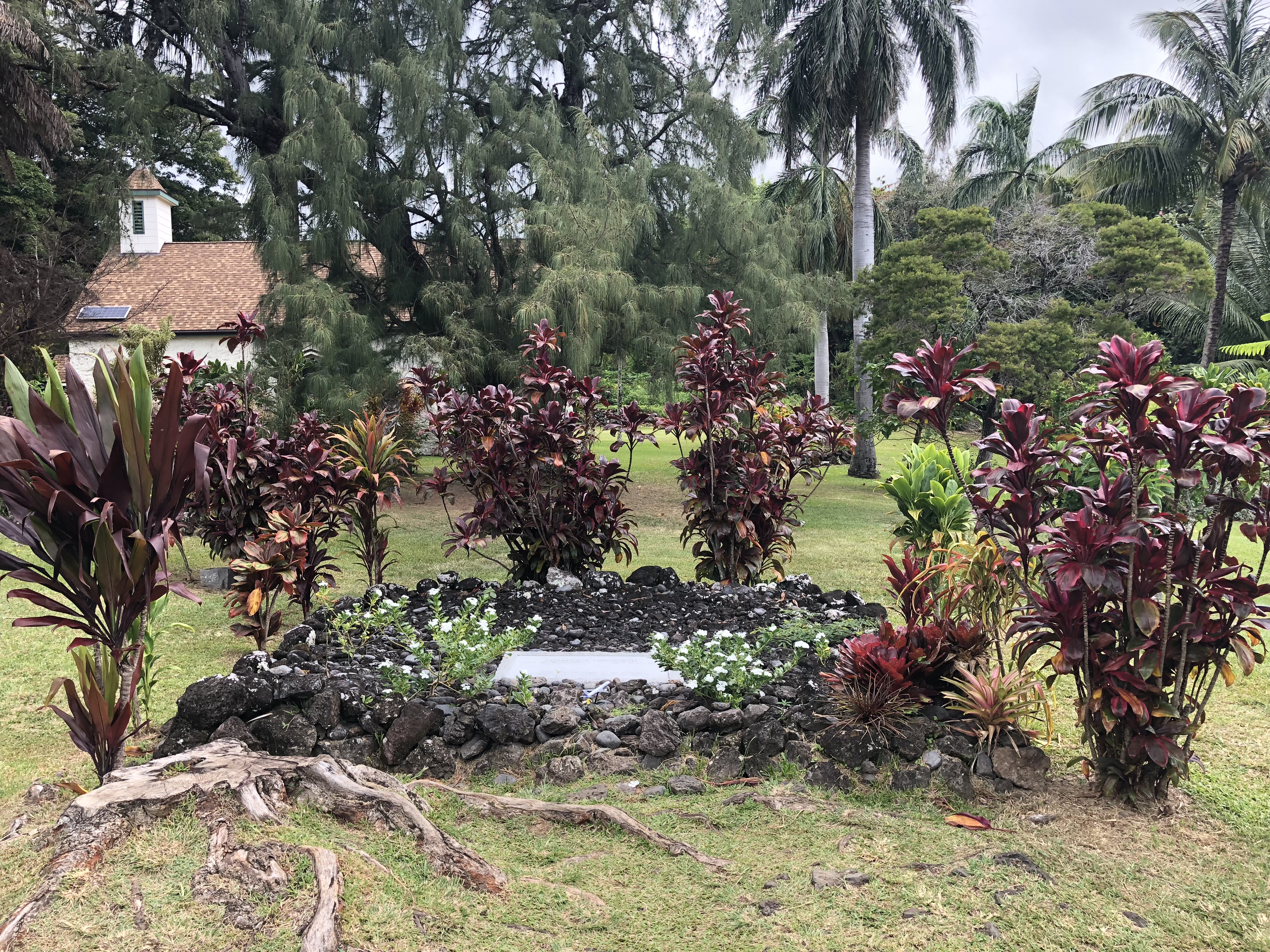 (Photo above: Charles Lindbergh's Grave)
One of my favorite things to do in Maui is visit the Haleakala Volcano at sunset. It's a nice drive up the mountain, the air gets very cold later in the evening. It's a refreshing feeling after being in such heat for days. Get there early though or there is no parking, pack a snack and don't forget the camera!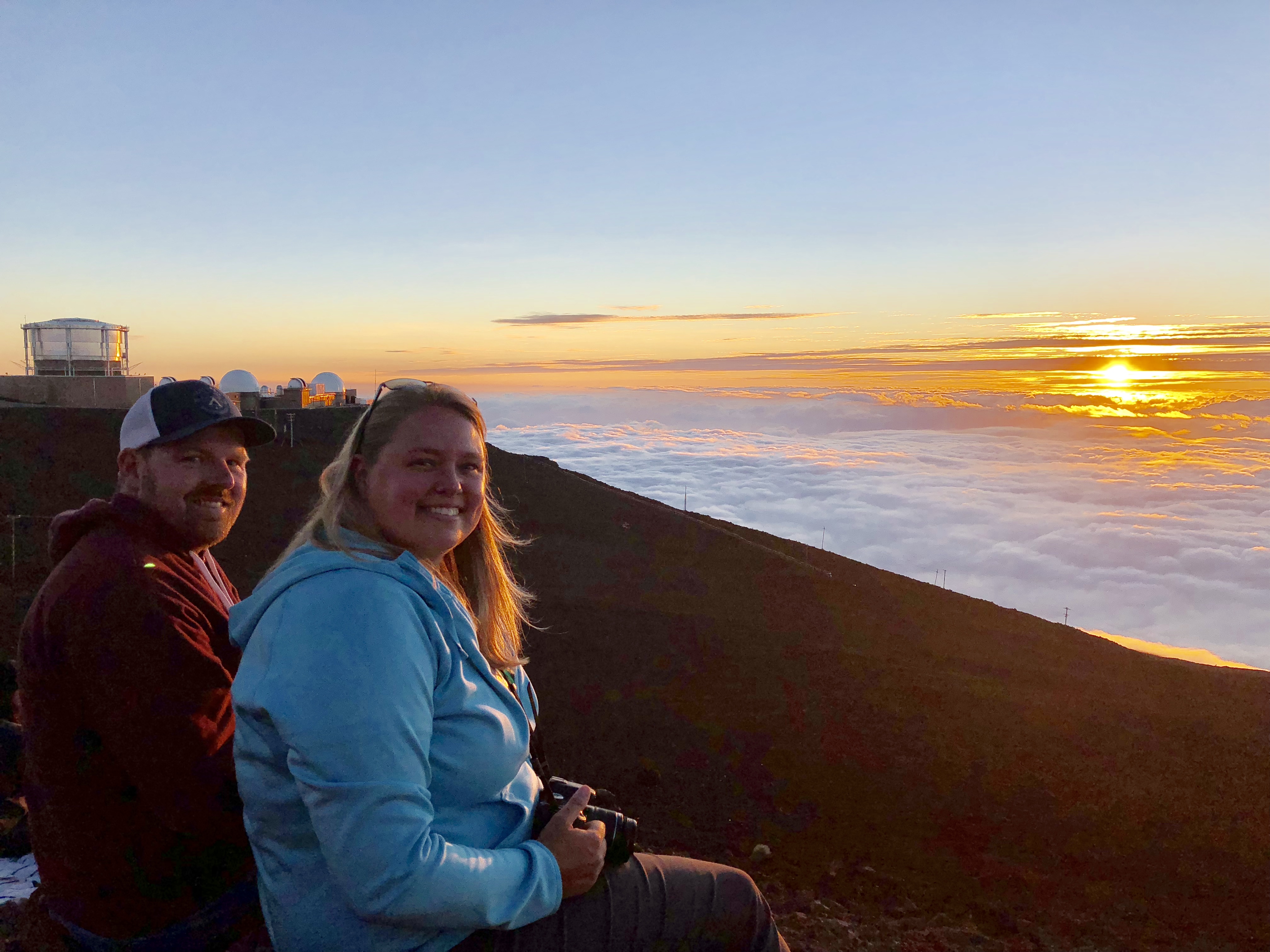 (Photos above: Sunset atop the Volcano)
If you want to spend some time on the water I would highly recommend a sunset boat cruise, the food is delicious and the view is undeniable. It gets very windy so don't lose your hat!
Another fun water activity is snorkeling, we went out for a six hour snorkel adventure. The water was very choppy and the boat was bouncing but it was well worth it to be able to swim with the sea turtles. Seat turtles are huge, some 350 lbs.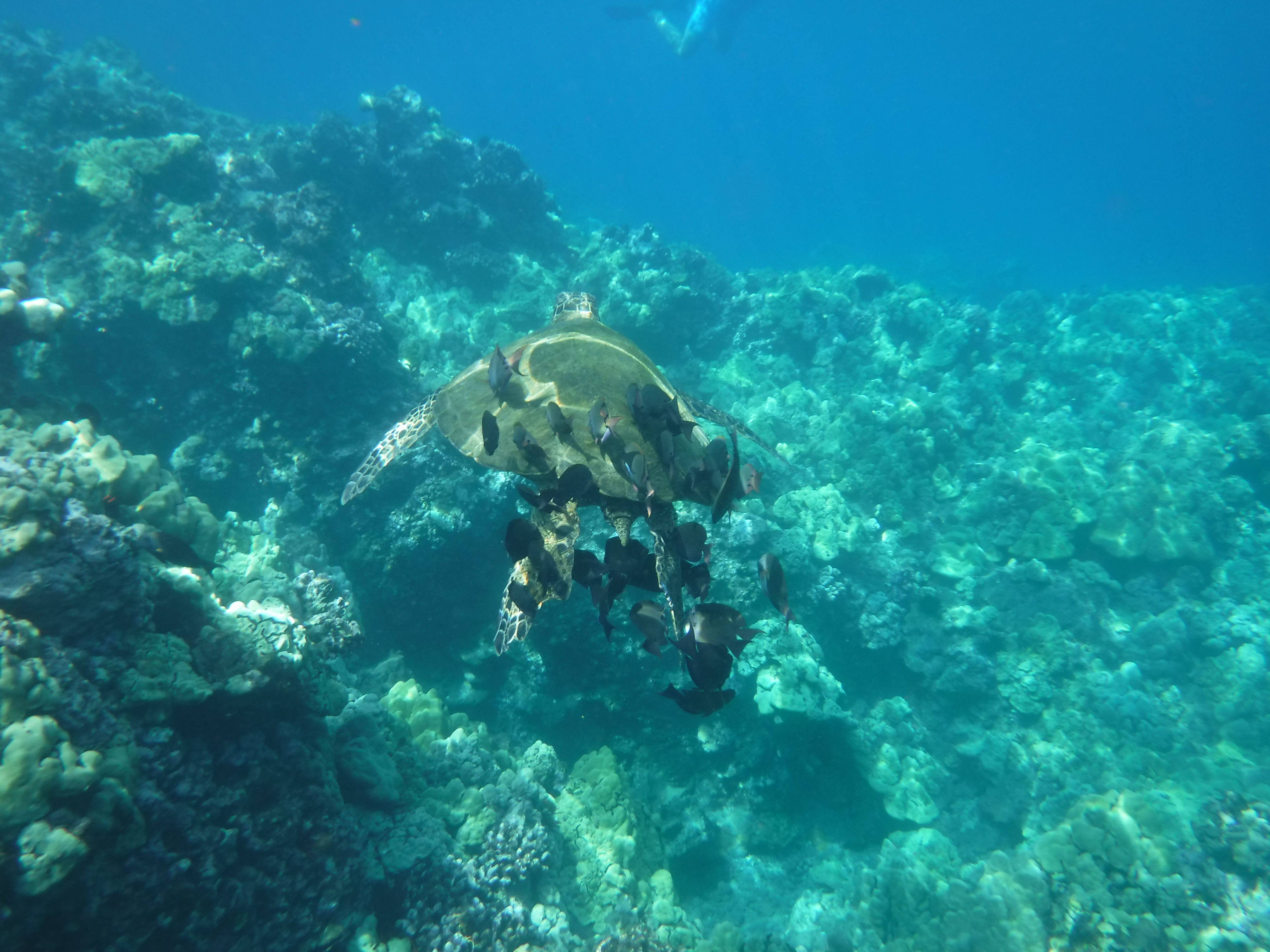 (Photo above: Sea Turtle)
If you don't want to swim with the turtles you can visit them sunbathing on the beach in Turtle Town. The turtles are often there during the evening, they come in from the shore and bask in the sunset glow.
Maui is one of may favorite places to visit to soak up the sun, the island life is nice and relaxing. I look forward to returning again some day.