*Palace by Alex
Our fourth and final day in Paris was spent outside of the city at the Palace of Versailles. To say that this place is massive would be among the biggest understatements uttered during my days. Not just the palace, or Chateau as they call it, but the grounds as well which stretch literally for miles and contain some of the most lavish things you'd ever see at one man's "residence."
We spent SEVEN hours here!
For sure, Louis XIV wanted to make sure everyone knew just how rich and powerful he was. From gold plated everything, to statues, to enormous paintings and ceiling frescos, this palace shows the story of a boy who grew up destined to be perhaps the most powerful King in the world.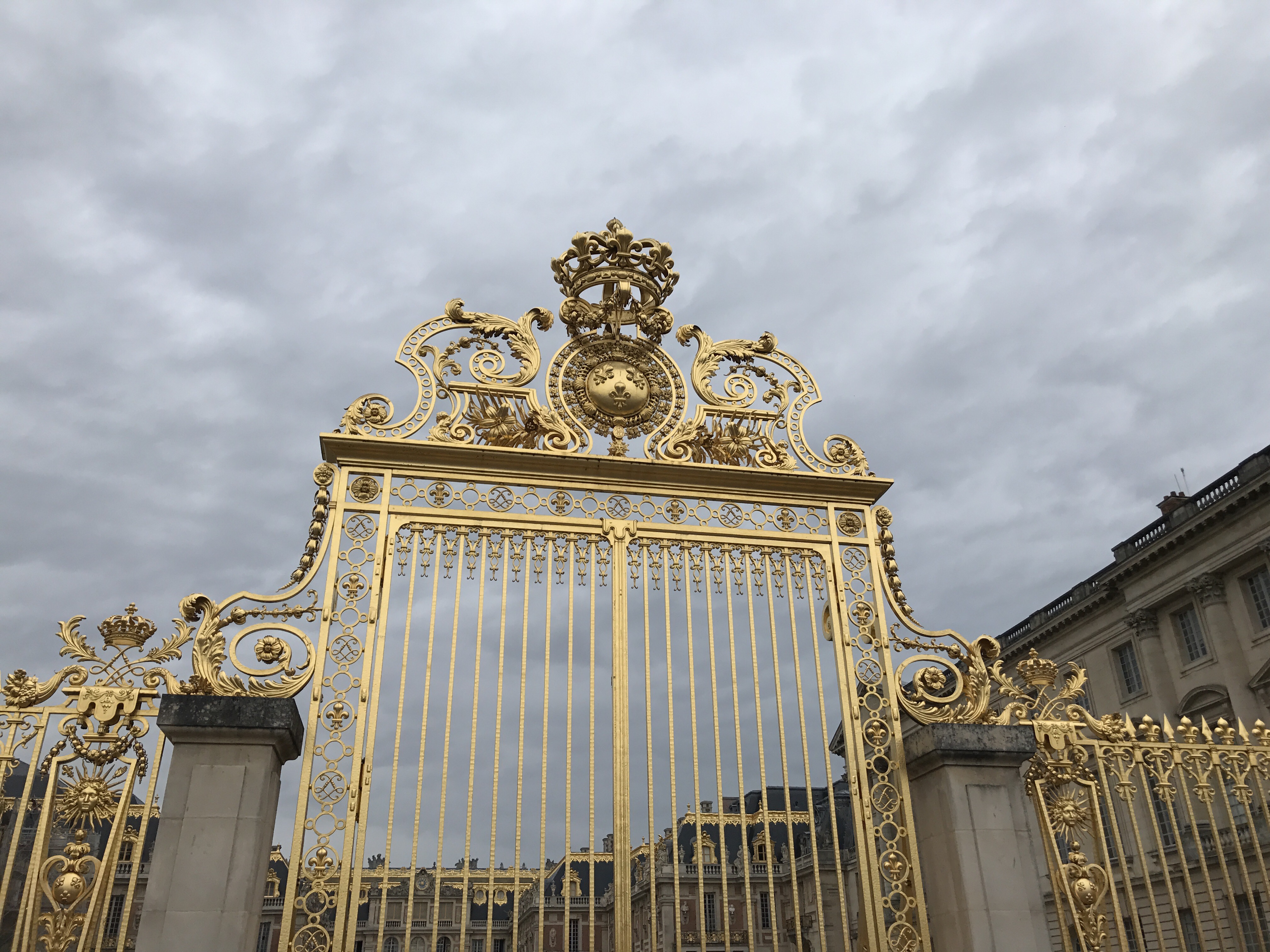 Palace gates
His reign lasted 72 years, 100 days. A European record (compare to Elizabeth II at 65 years, 179 days as of this writing). Perhaps such a long time on the throne gives a person enough time to convince themselves of how important they are and the ability to build a vast home!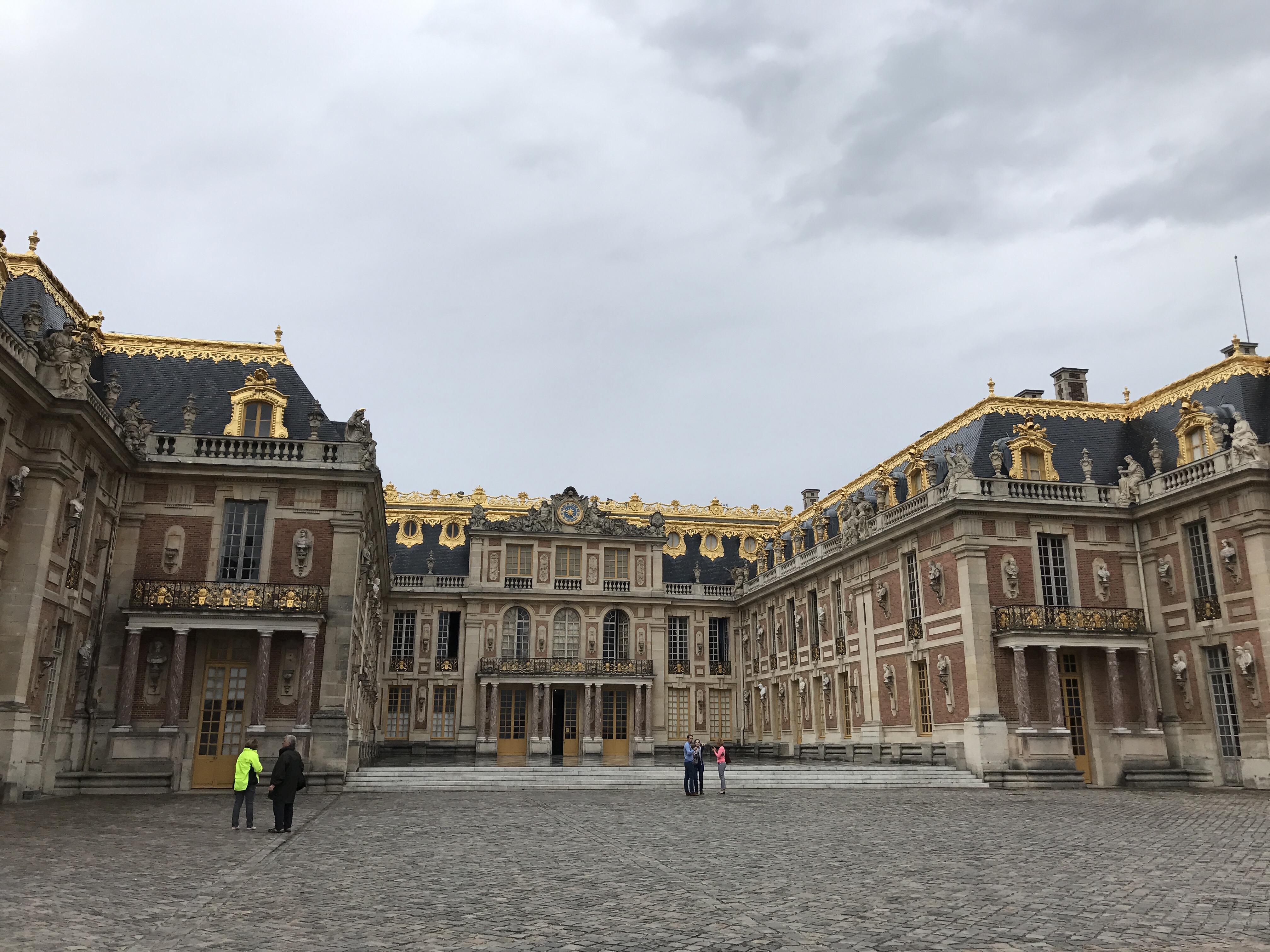 Palace courtyard
We waited in an extremely long line for nearly an hour to enter. Once inside, it felt a little like we were sardines being shoe-horned into a tube, filing through security before finally squiring out into the courtyard.
Despite all that, it was pretty amazing once inside and moving through the palace. From the King's bedroom, which faced East for the rising sun — he was the sun king after all — to the throne room, and the hall of mirrors, each room presented a new way to help imagine one living with such incredible wealth and power.

The influence of Louis XIV even reached America! You'll notice in the photo above the many different wigs in various portraits. Yep. Just like George Washington and our founding fathers. Paris has been a fashion center of the world for some time, no?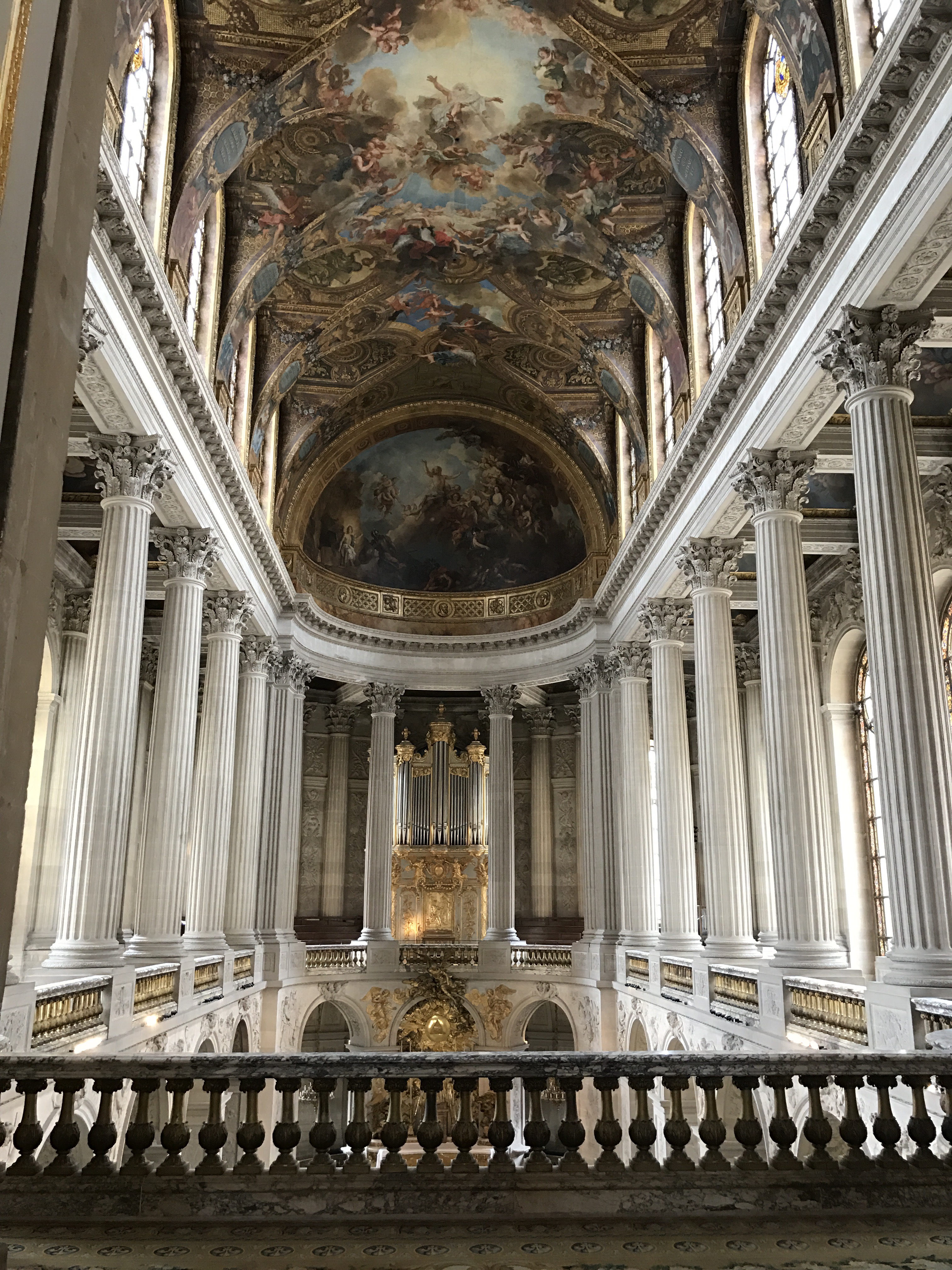 Palace chapel
Louis needed to project being the Sun King, so after waking up to the rising sun, he'd swing open some doors into the Versailles Chapel where he'd pray to the other Sun God. Or was it to himself?
Shoot. The guy even grew orange trees in a green house under the palace that he'd wheel out to the gardens so he could project to visitors his ability to grow Citrix's fruits in chilly France. Hey, speaking of gardens…
*Gardens by Kari
There are miles of trails through the gardens of Versailles. The flower beds are perfectly sculpted into beautiful designs.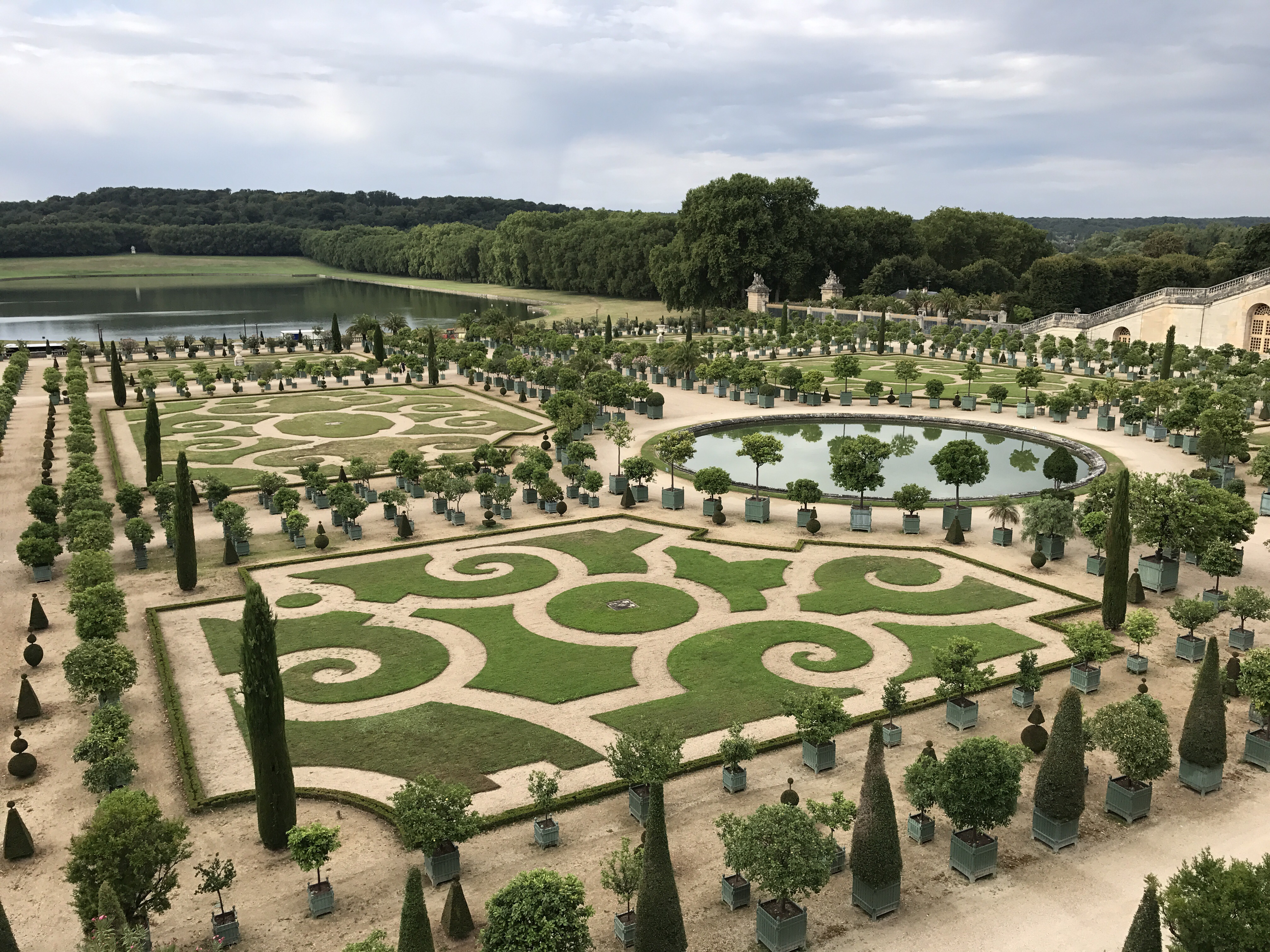 We walked around for several hours and did not get to see everything. Unfortunately today the rain found us and we had to duck for cover a few times.


There are many magnificent water fountains spread throughout the grounds. The fountains were made to turn on as King Louis XIV road past them. He would often give his guest personal tours to show off what he had created.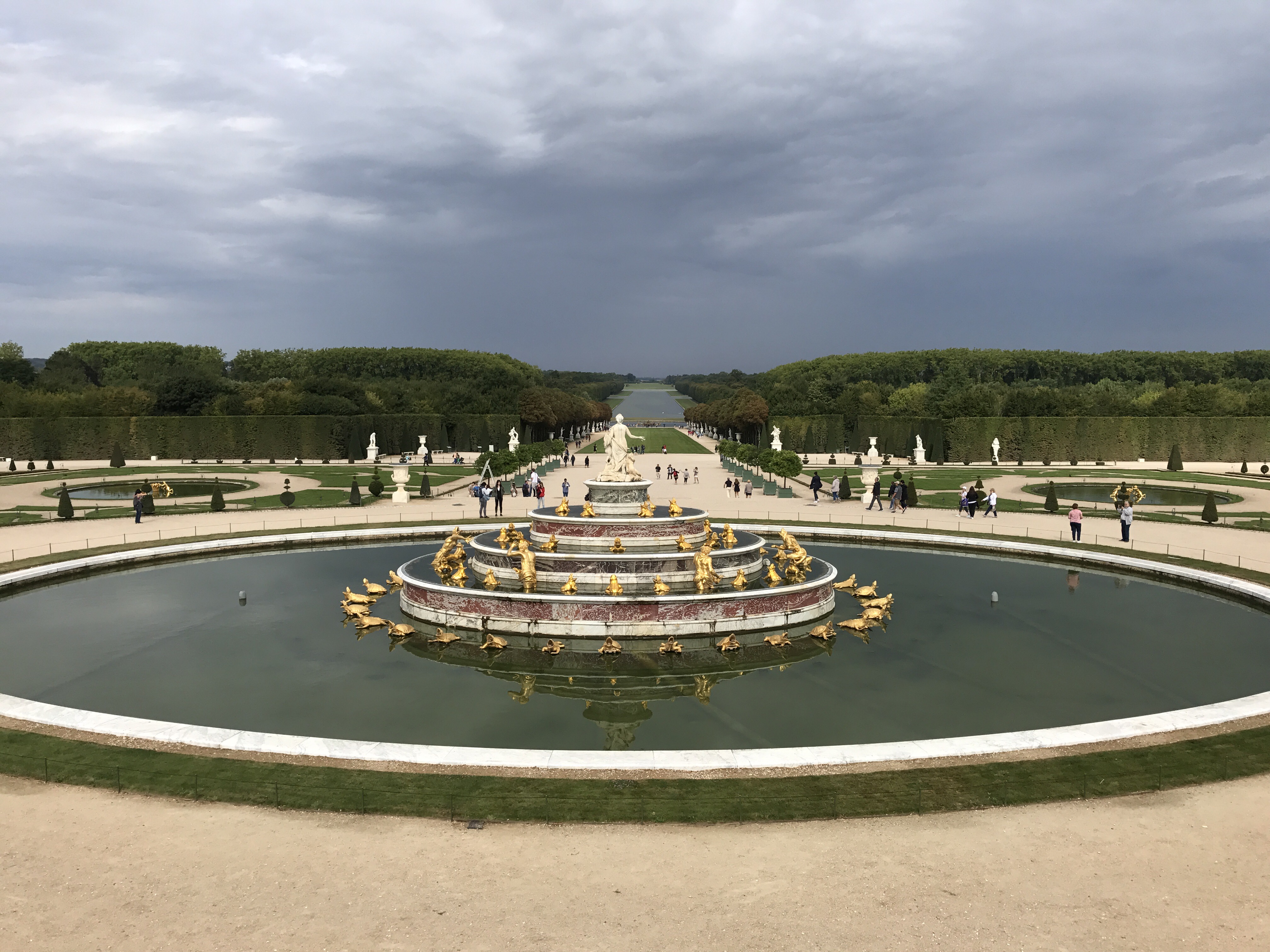 He even had a grand canal built as he was inspired by the original in Venice. Venetians came over from Italy to live and work on the grounds and give gondola rides as the King wished.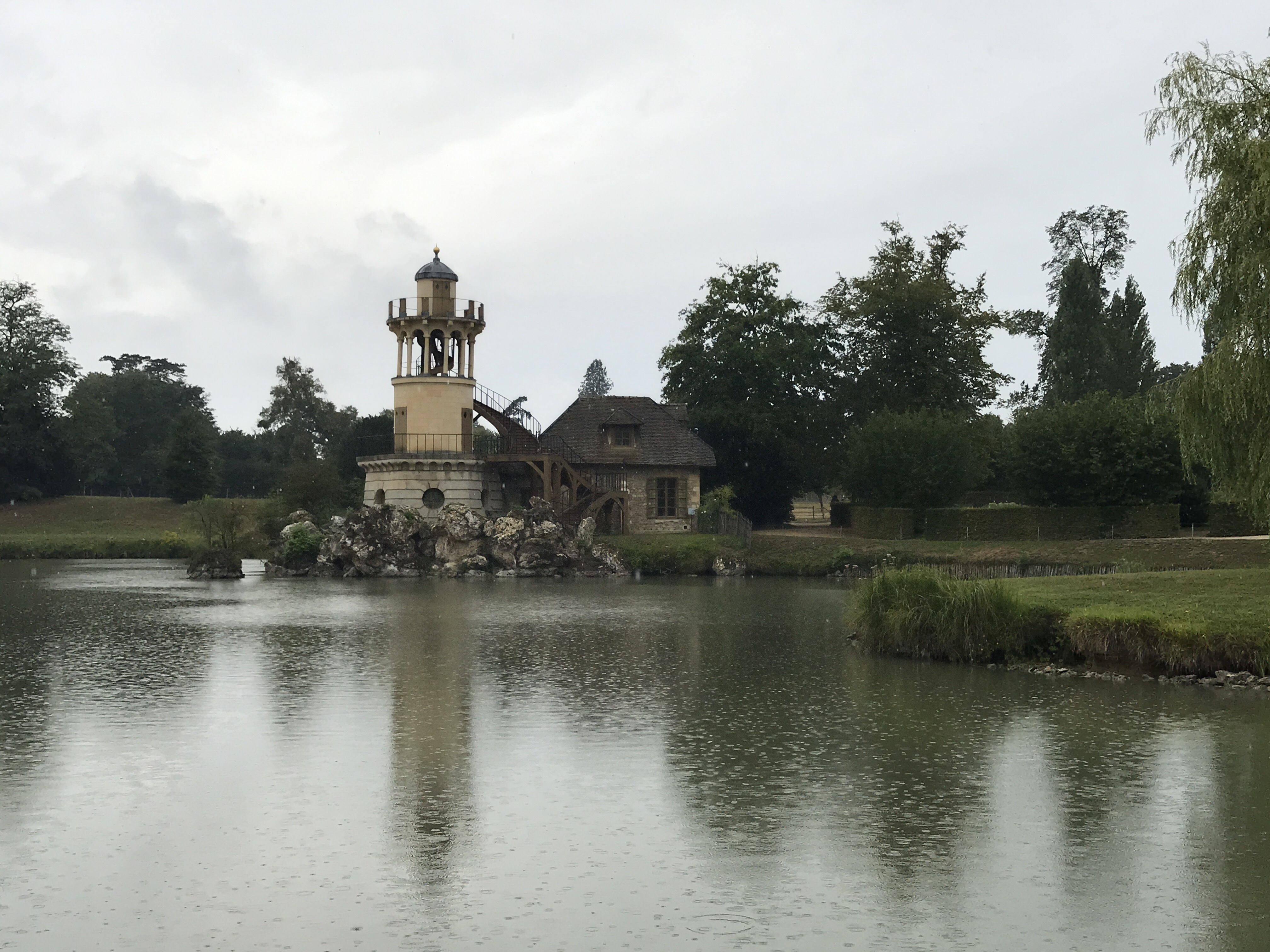 About a half miles walk from the palace is where Marie Antionette spent her time. A quieter area of the grounds where ducks and fish would splash around in the man made ponds. A gorgeous site to see.


Versailles is a wonderful place to visit. You can rent bikes, golf carts and boats to travel around but I wouldn't recommend visiting when it's raining. We got very wet today but we made the best of it as it was our last full day in France.
Paris was exhausting, our feet are sore and backs are aching. I can't imagine doing a trip like this after we retire from working. This kind of traveling is meant for the younger kids.
Distance walked 10.76 miles