We were up at 6 AM this morning, had a quick bite, packed up our things and headed to the train station, bound for Bruges.
"Bruges has two names and two spellings. Bruges (pronounced broozh) is the English and French spelling and pronunciation. Brugge (pronounced broo-gha) is the Flemish spelling and pronunciation." – World Wide Web
Bruges is called the Venice of the north because of its canals and many windy streets and back alleys. Having been to the real Venice in Italy I'm going to say that's kind of a stretch. This town is beautiful and quirky but there really is no comparison to Venice, Italy.
We found our hotel which is more like a B&B fairly easily. Hotel Ensor is a family owned business since the 1980's. The gentleman running this hotel has lived here his whole life, he is very friendly and nice to chat with.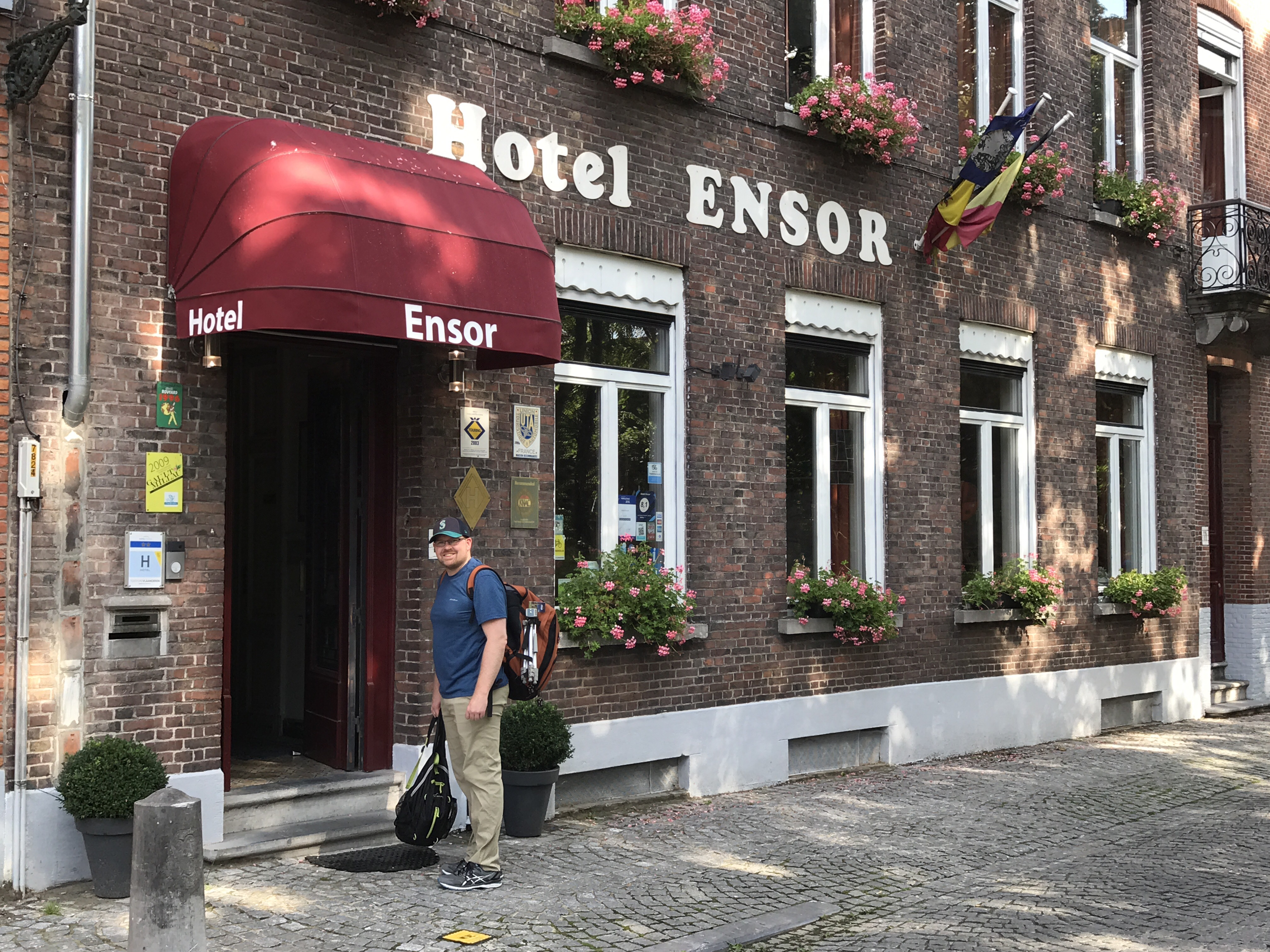 It was still very early when we arrived so we left our bags in the hotel and headed toward the town center.
Bruges is a very old city, the houses and shops are made from brick except one or two that are still made of wood. These houses are 500-600 years old and are historic landmarks now. They can only be renovated and not rebuilt. It's not allowed to build of wood anymore since the fire danger would be too risky.
The town center is larger than Brussels' town square. They have a similar feel and the buildings all face each other.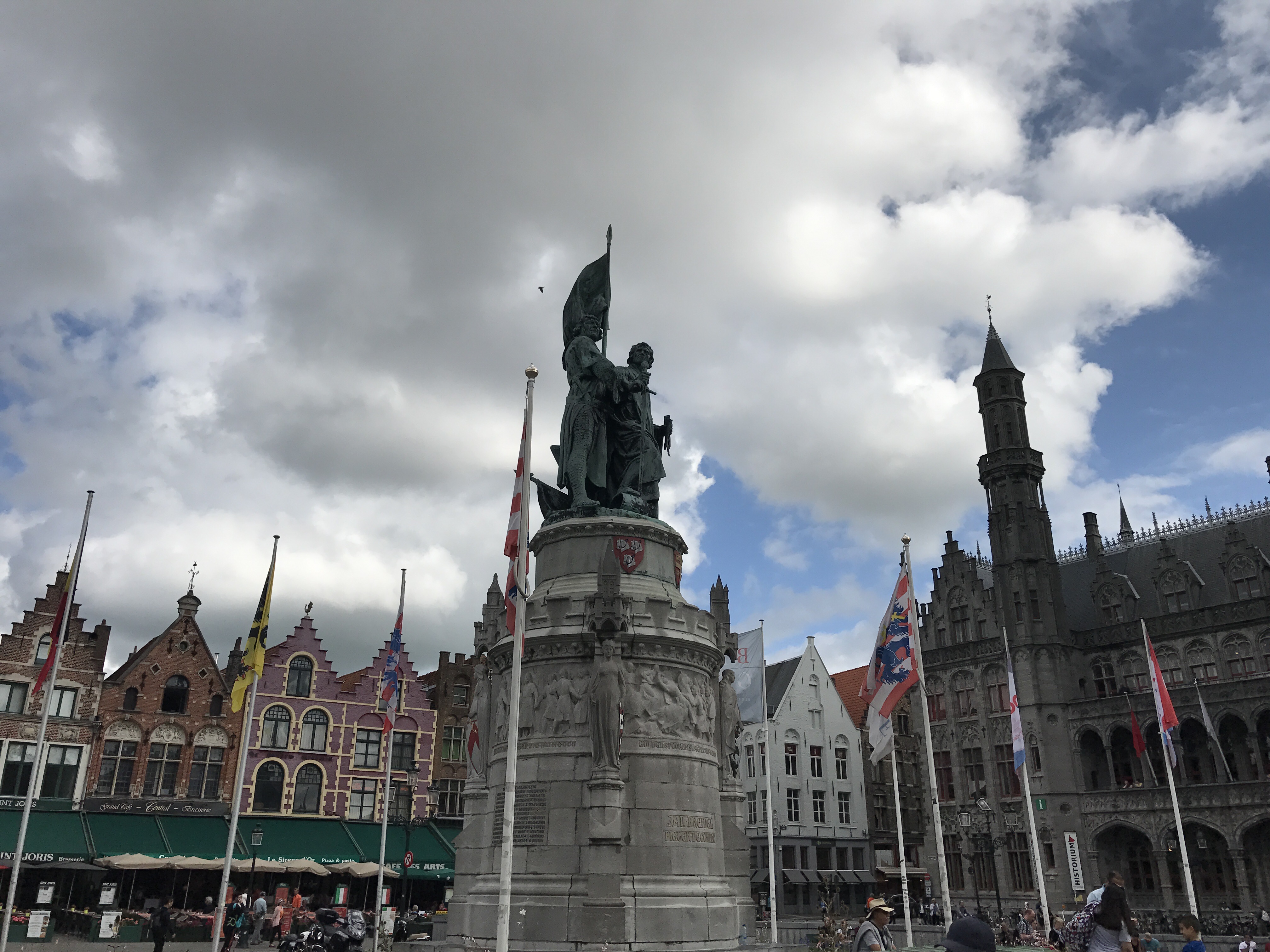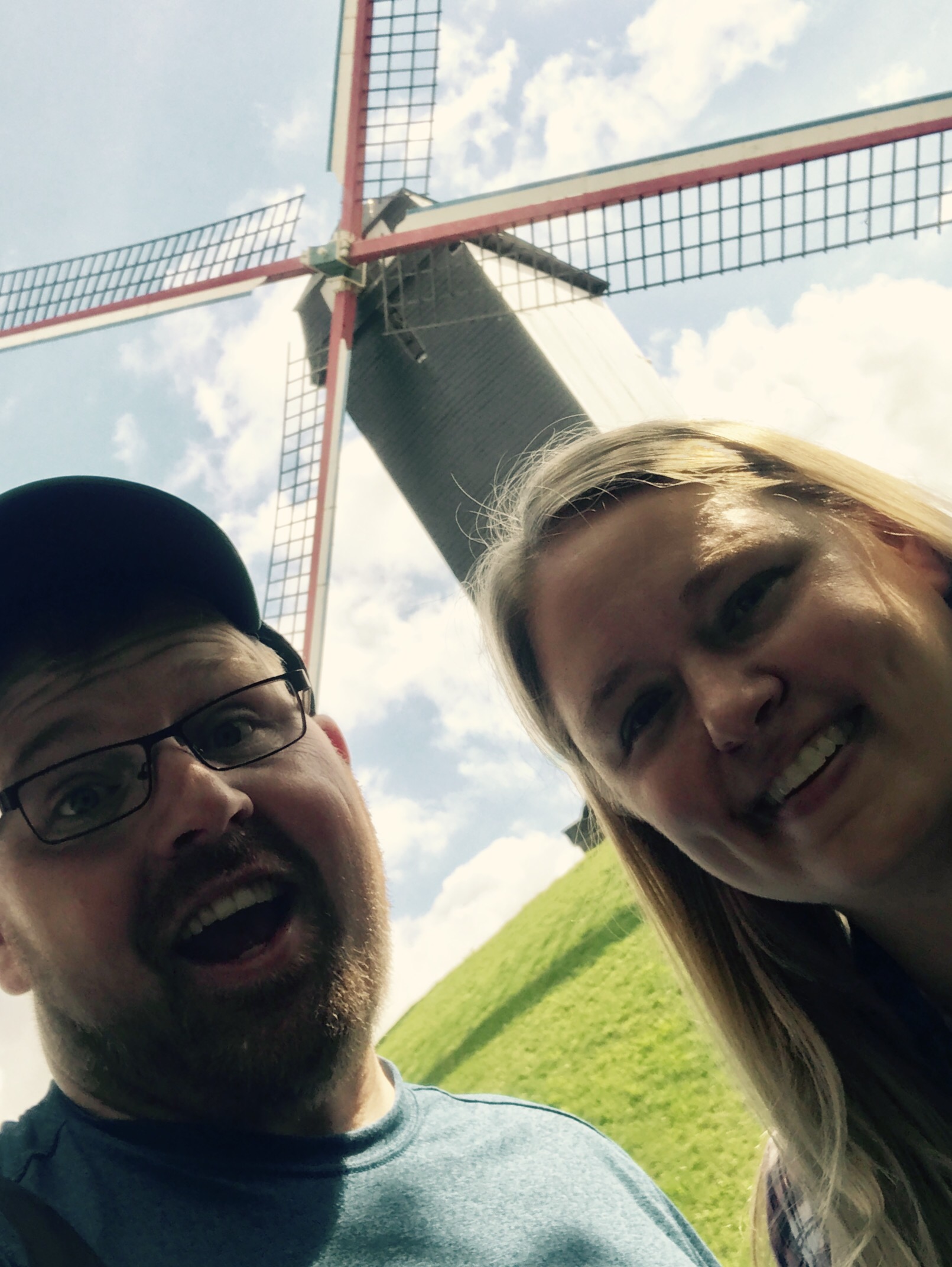 There is a festival going on this weekend. The town is setting up a dance floor and party lights. Saturday will be an interesting day in Bruges. There are many tourists here. The shopping areas were buzzing today with people.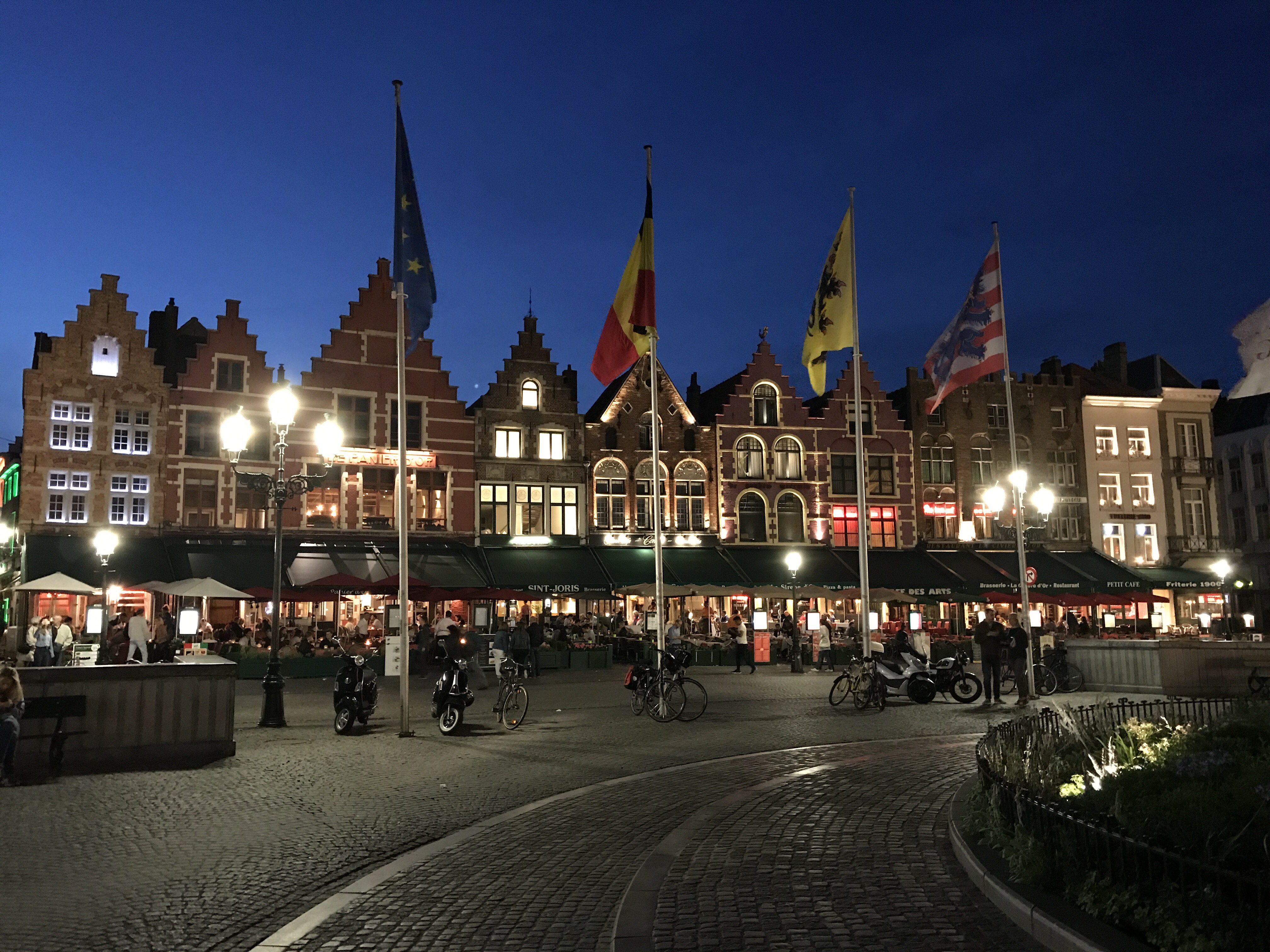 We had a bite to eat at a burger joint called Ellis and also decided to have a Stella Artois in honor of its native country.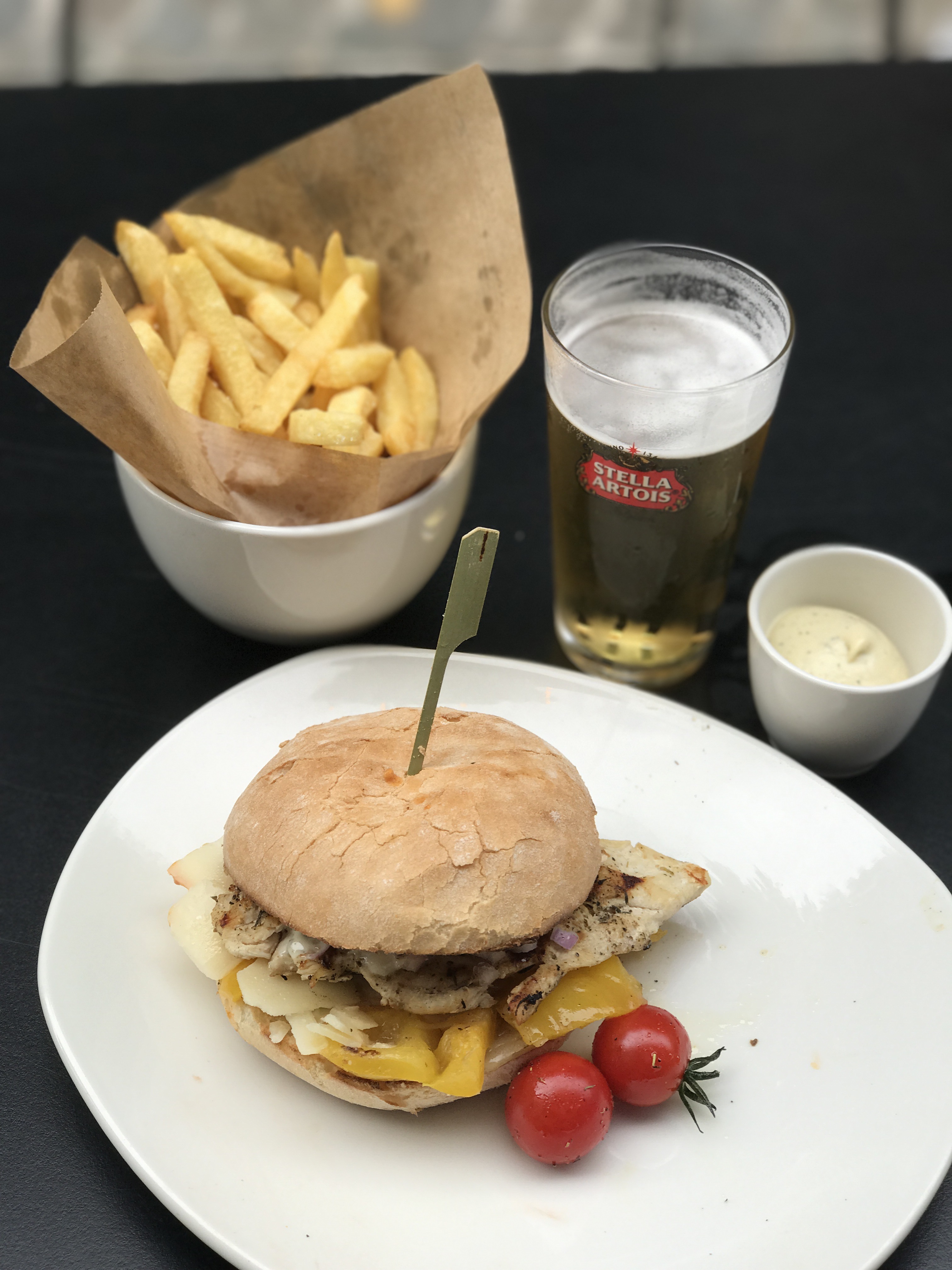 After dinner we met up with a walking tour at 8 PM. We were lead on a 90 minute walk around the city and learned of some history and a few ghost stories. A local man was walking by listening to our guide tell his stories and gave a good chuckle. It's hard to say if the stories are true, it sounds like the town folks have a good time drinking and making stuff up which then become tall tales and folk legends.
One story was of a priest who fell for a nun that lived across the bridge from him. Apparently the priest confessed his love to her and she stood strong in her faith and would not give in to him. He eventually couldn't take it anymore and one night he stabbed her to death. The old nunnery has been haunted ever since. The nuns who lived there were terrified of the strange happenings and moved out of the building. It's been sold a few times and each family has moved because of the ghosts.

After the tour we headed back to our room. We are a week into our two week trip and have walked about 60 miles since we arrived. We are definitely feeling the burn…
Distance walked 12.28 miles